VR (virtual reality) experience that seems to be totally in the place in smartphone!
In gyro sensor and trigger button, we sell VR remote control for light video regeneration that we can operate newly.
VR remote control "M-VRA01BK" for Bluetooth® deployment video reproduction 8,870 yen (the body) tax-included price 9,580 yen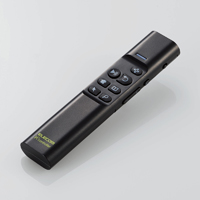 ●VR remote control which is convenient when we do substantial VR (virtual reality) experience in smartphone
●We can operate by wireless with setting smartphone at VR glass by Bluetooth® connection
●In gyro sensor and trigger button, operation is possible lightly in the air
●In correspondence with iOS and Android, change is possible for two kinds of operation of video seeing and hearing mode and Android mode ※
●Volume adjustment that reproduction / stop of video, / which video goes ahead through come back to with video seeing and hearing mode is wireless and can control
●Can use 11 shortcut buttons at Android terminal, operation easily
●Aerial cursor operation using built-in gyro sensor is possible at Android terminal
●We can correct cursor movement 90 degrees depending on length and breadth of screen at Android terminal and can always operate comfortably
●We can regulate cursor pen up speed with two phases
●The body side includes power switch and prevents consumption of battery in nonuse
●Lamp to tell about exchange time and pairing mode of battery is equipped with by the body surface
※Speed varies according to screen resolution of terminal of use.
Caution Depending on terminal, the OS, application, browser of use, some buttons of This product may not function.
In case of use at iOS terminal is careful:
Cursor does not work at iOS terminal. In addition, screen scrolling, returning cursor movement revision, Internet search, trigger button do not function.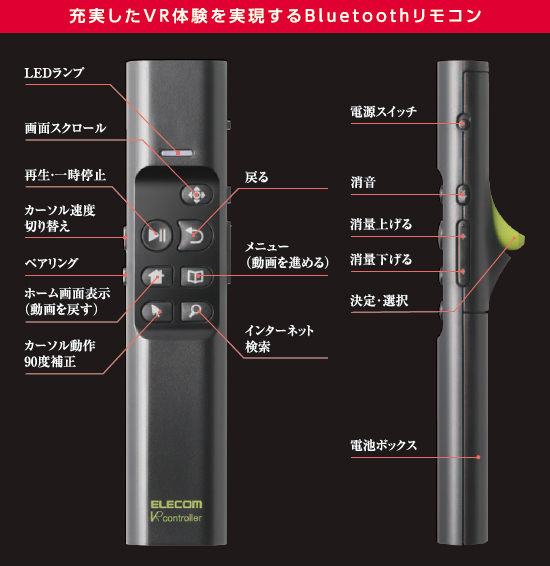 Specifications
■Supported devices: iPad, iPhone, iPod touch, Android smartphone / tablet
■OS: After iOS10.0 after Android6.0
■Interface: Bluetooth®4.0 Class2
■The number of the buttons: 11 buttons (we do not include changeover switches, pairing button)
■Operation mode: The video seeing and hearing mode /Android mode change function deployment
■The number of the axes: Motion sensor: 6 axes (gyro, acceleration)
■Communication method: FHSS method
■Radio frequency: 2.4GHz
■Radio wave outreach: Up to 10m
■Continuous operating: Approximately 112 hours
■Power supply (the body): AAA alkaline dry cell battery, AAA manganese dry cell battery, one of the AAA nickel metal hydride rechargeable battery two
■Supply voltage (the body): 3.2V
■Dimensions (the body): About width 31.7x depth 139.6x 26mm in height
■Weight (the body): Approximately 36 g (we do not include battery)
■Accessories: 4 single alkaline battery X 2 for operation check